Keltish is a Wammie-nominated five-piece band whose players have widely different musical backgrounds, including Jazz, Rock, Blues, African, Latin and Middle Eastern in addition to the underlying Celtic sound that is our foundation. Keltish plays a mix of acoustic and electric instruments, and the tunes chosen are often traditional Celtic tunes with a fun and tasteful modern twist, or modern pieces made to be more... well, "Keltish"!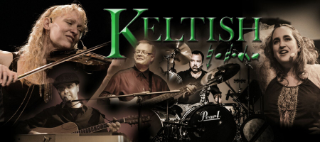 Sign up for the Keltish Newsletter!
Now Open!
The Keltish Store at CafePress!
The only place to get official Keltish T-shirts (more items coming soon).
Get the Keltish Presskit (PDF)
Keltish was the first "live" full band to perform in Second Life (SL). Second Life is an online society, a 3-D virtual world built and owned by its residents. Keltish played monthly in SL, performing in a living room and broadcasting their sound over the internet to be enjoyed by other SL residents in the US and abroad. The SL concerts took place in the "Blarney Stone," a fun little virtual bar in the Dublin sim, and other venues all over the face of the SL map.
Keltish is based in the Washington DC area, but tours internationally in venues ranging from house concerts to stadiums. Keltish is the perfect festival band, easily switching from electric/acoustic to all acoustic as needed.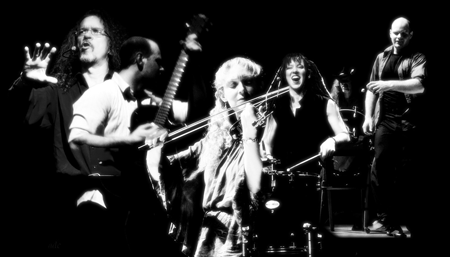 Keltish is thrilled to be performing in Daniel Nelson's upcoming show, "Irish Mystique".
Come explore the myths of the ancient Celts. With hauntingly beautiful singing and riveting storytelling our world class performers will captivate your imagination with their inspiring Irish dances. You will hear all original cutting edge epic music composed by Daniel Nelson and performed by Keltish with Chelle Fulk , Christopher McCarney, Michael Kazalski, and Daniel Nelson. If you loved our Irish Dancing Christmas show then you will be amazed and enthralled by this original inspiring performance.
Irish Mystique is an epic journey into the magical legends of the the Celts. The show will feature spellbinding characters such as the lordly Sidhe folk (pronounced She), the Will-o-the-Wisp, the seductive Selkies, and the hauntingly beautiful Banshee. There will also be thunderous dances from the warrior Celts and inspiring songs and dances from the Pirate Queen, Grace O'Malley.
Check the Irish Mystique Facebook Page for information about upcoming performance dates.